ALL THINGS CIRCULAR - NEWS & INSIGHTS
Read the latest updates on exciting startups, news and insights in the circular economy. On a regular basis we also inform about our European startup prize, the Green Alley Award.
Sign up here for our news.
NEWS, JULY 2019
- Statistics on the 2019 Green Alley Award application phase
- Interview with 2018 finalist MIWA
- Startup Events
NEWS, MARCH 2019
- How Brexit will affect circular economy startups
- Working towards a world without waste
- Create the perfect pitch deck
- Past winners
NEWS, NOVEMBER 2018
- Aeropowder after the Award
- A moving event in moving pictures
- Videos of all finalists
- Aeropowder at Ecomondo
- Startup Events
NEWS, SEPTEMBER / OCTOBER 2018
- The Award trophy
- 6 startups to watch in the circular economy
- Interviews with all finalists
- Get to know our judge Umberto Raiteri
- Startup Events

NEWS, AUGUST 2018
- Bioplastics – a sustainable choice?
- Hot startups – cool ideas
- Get to know our 2018 jury
- Hall of fame: Award winner 2014-2017
- Introducing the circular economy's best
NEWS, JUNE 2018
- How to not waste your life
- Insights from an insider
- Final Countdown – 4 days left to fight against the waste land
- Two ways out of the plastic trap
- How digital tech will pave the way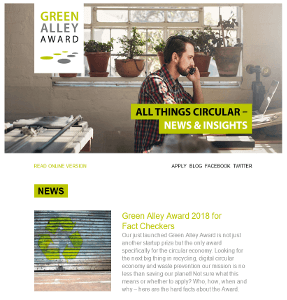 NEWS, MAY 2018
- Green Alley Award 2018 for fact checkers
- 4 reasons to apply for the Green Alley Award 2018
- A guide for the perfect application
- Save the Date for the finals
NEWS, MARCH 2018
- How circular economy startups changed our lives
- "What's new, Green Alley Award finalists…?"
- Get to know Germany's vibrant scene of startup awards
- Five years Green Alley Award – time for a facelift!